Radiantflow™
GE's innovative Radiantflow is a new development for the colour Doppler technology. Other than in conventional colour Doppler ultrasound, Radiantflow displays vivid flows even with a 2D probe, providing a clear offset in depth and in particular improved ability to distinguish from the surrounding tissue and more distinct differentiation in case of adjoining or intersecting vessels.
Slowflow HD
With this new Doppler technology, you can visualise vessels with extremely low level of flow in a very good spatial resolution.
HDlive
HDlive™ – Easily obtain volume images with unprecedented depth and clarity using the HDlive™ technology suite—an essential problem-solving tool.
HDlive™ Silhouette – Volume imaging is taken to the next level with the ability to control what tissue type is displayed internally vs. externally.
HDlive™ Studio – Illuminate anatomy and surrounding fluid with up to three independent light sources with various intensity and hues.
HDlive™ Flow – Vascular structures are displayed with greater depth perception and dimension.
HDlive™ Flow Silhouette – Visualize vascular structures along with surrounding tissues with various levels of border enhancement and through transmission.
V-SRI
GE's proven "Speckle Reduction Imaging (SRI)" algorithm minimises artificial graininess, typical for ultrasound cross-sectional imaging, enabling the most finely graduated tissue presentation, similar to MRT, with excellent recognisability of slight grey scale differences.
Volume SRI (V-SRI) – Reduce speckling by utilizing volume/voxels versus traditional single slice imaging with Volume Speckle Reduction Imaging to improve 3D/4D quality in multi-planar studies and to enhance smoothing effect on rendered images.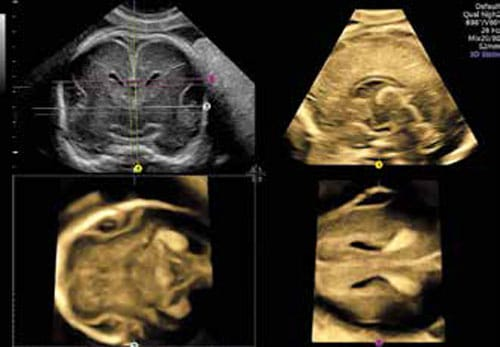 Advanced VCI
Advanced VCI – Adjusts slice thickness on 3D or 4D images to help enhance contrast resolution with use of render techniques such as bone and tissue renderings. Can be applied in the acquisition plane (VCI-A), static 3D volumes, or OmniView
OmniView
OmniView – Obtain any plane from a 3D or 4D volume by simply drawing a line, curve, poly-line or trace through a structure. This valuable technology enables views of even irregularly shaped structures not attainable in 2D imaging
SonoRenderlive
This valuable feature supports you with placement of the render line for surface rendering with reduced artifacts. SonoRenderStart automatically searches for the impedance jump between the fetal surface and the amniotic fluid, nearly entirely eliminating all echo structures proximal to this interface.
SonoRenderlive continuously updates render line placement with fetal movement during 4D examinations.
Courtesy : https://www.gehealthcare.com/products/ultrasound/voluson/voluson-e10